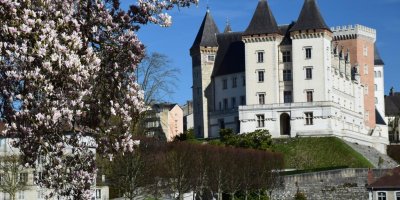 National Museum and the Château de Pau
An emblematic monument of Pau that has passed through time, from the Middle Ages to the Renaissance, successively Royal Palace, Imperial and then National Museum, the Château de Pau is a jewel not to be missed.

Start by admiring its majestic exterior with its entrance portico with three arches, its main courtyard punctuated with sculptures and medallions, its five towers, its chapel, its walls and its gardens.
A castle but also an estate and a museum
The green lung of the city of Pau, the national estate surrounds the castle of Pau with its 22 hectares of park and gardens. With many opportunities for walks and discoveries, it invites you to stroll through its tree-lined paths and its many gardens known as Renaissance with its medicinal plants, aromatics, flowers and vineyards.