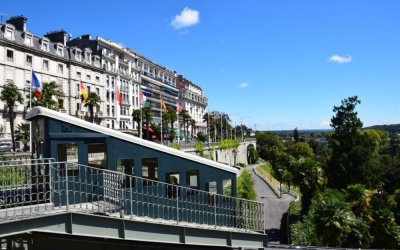 Funicular of Pau
This is an old gentleman who has recently been given a new lease of life. The funicular of Pau is more than centenary but its small dark green cabins have been renovated and brought back to life.

Situated on the Boulevard des Pyrénées, it is an essential element of the local heritage and offers an unparalleled panorama of the beautiful mountain range.
A real means of transport
More than just an attraction, the funicular is also very practical: it connects the train station and Place Royale. Open every day, it offers very frequent rotations (approximately every 3 minutes).

This friendly remnant of ancient times in the heart of Pau Centre is accessible in about twenty minutes walk from the Atlantic Hotel.